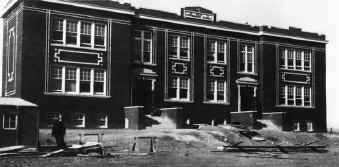 Mead Consolidated Schools 1917-early 1960s
The building was torn down in the early 1970s after the school merged into the St. Vrain Valley School District. The gym, build by the WPA in the 1930s was saved and was part of the Mead Elementary school building, until both were demolished in 2019.
The orange & black Bulldogs Basketball team of 1957 won the Class B State Championship, and was inducted into the CHSAA Hall of Fame in 2010.
The Mead High Alumni have made generous contributions, and in partnership with the MHS Education Foundation, have created display cases in the main corridor of the new building to house photos, trophies, and other precious memorabilia.